Klub
Fur
Mizunfurstood
Kitties
Heer iz wheer yewz will fin da klub fur mizunfurstood kitties. Da nayme is self-eggzplanituee. Maffer ob faxz, awl kitties r mizunfurstood fur won reesin ore anuffer bye deer hoomins. Iffen yewz one ob dez kitties, whi notz joyne da klub an unitez.
Da Rulez
Dey iz nune!

Memfurz
Belle - Mie hoomins don't think that I can whip Pippy"s butt (but I can).
Mrs. Wiggles - Mi hoomins won' letz mee inda OUT!
Pouncer - Mi hoomins won' letz mee sleepz inda hoomin chair
Ghost - Mine hoomin won't let me inna OUT unless Iz wearin de hoomin onna string, an I don like that!
Oprah Anne - Ize mizunfurstood cuz my Meowmie finkz Ize meen tu Princess Pasha; but Ize rilly not.... Honest!
Velcro (nex door) - My hoominz chazeded me awayz frum byrdz. Dey fink Iz gonna eatz dem. Iz onli wanztu playz wid dem. (pawz crozzeded beehin myne bac.)
Shadow - I am misunderstood cause I just like to have fun....with EVERYTHING wether it is mine or not.
Hershey an Ted E. Bear - They keep trying to set us up on a post to scratch....its awful, they won't let us scratch on the curtains, go poop on the floor or anything fun....
Tigger an Pooh - Me brudder Pooh and me r mizunfurstood beecuz PawPaw sayz we r pigz when we scatter dry catfud awl over da flor. We r not pigz, we r kittiez, shakin n killin r fud, like catz r sposed ta do.
Merlin Official Bengal Tiger - moi mum got mad and yelled reeeal loud wen I put moi claws in her. She pulls moi toes and moi taaail and finks I am a fuuury toy and I izn;t. I iz a tough ginger Bengat Tiger
Thomasina Tid Bit - my mother will not let me beeat up dat howid gwey cat dey fusss ovr an she needs to bee whacked a lot.
Sassy - Mom yellz an hisses at me when I chase Whiskers. She sez I'm mean tu hur. I iz not mean to Whiskers! I'm just tellin her thayr's not enuff rum here, or fud, or enuff hoomin hands fur skritches, so she shud go find anuffer onetroohome.
Lucky - Ize misunfurstood by dem dum hoomins owwwlll de time. Ize meowww an meowww for dat kittee grass for rollinin, an they gif me yumyums. Ize so big now Ize can't squueeez under der bed to swat ze wiggleses on der feet.
Geezer - Ize so mizunfurstood by da dumdum hoomins dat dey tawt ize was old and named me Geezer. Ize wuz only thix munz den, now Ize nine yeerz, an still feelz yung. My gurl hoomin, Meoomm, shaves off my fur. Ize do really look like a geezer!
Cornflake - Me Cornflake was an orphen when on cold howwowen mummy tookd me in. She hadent kitty food so she feeeeedeed mi corkflacks and iz the same calor, so mez name is good.
Tornado - Me Tornado waz only 4weeks old when a baadddddd man threw mez ost of a crr winder. mez mummy nursed mez to health and even thoz mez name iz Tornado Iz iz callllled Little Boy. Mummy named mez that caus I waz so smaall andz week, now mez lives up toooo mez name. Ourz mummy woves us lottts too. Can youv come playzz.
Louise - Ize misunderstood. Hoomins run from me. Even new hoomins abandon neerly efurry day! Louise (cat of few words)
Raz - My owner ( I call her that because it amuses her to think that she owns me when we all know that it's really the other way around) is the only one who does appreciate my finer qualities. The human that she is married too, on the other hand misunderstands me totally. Just because of one little, tiny mistake I made 13 years ago. He never lets me live that down. But hey, I was a kitten at the time! Come on, big deal! Alright, so I was feeling a bit playful. I was gracing him with the very high honor of my attention but he didn't appreciate it. I bit him in a place that it seems that male humans don't take to being bitten. I was only playing! So what did he do? He tells everybody about it. Like it's my fault that he didn't know I was playing. So now, even though it's been 13 years, when other male humans come over to visit, they still look at me and say, "Is that the one?" And they back away from me. In my own house! Can you believe it? Raz
Steviekins - My humans don't understand me. They think that when I do something that it is funny and they laugh, when I am not trying to be funny at all.
Jason - is thought of as a beggar and a thief, when he's just plain hungry all the time! (Yes, even though he is a bit overweight, he still feels hunger pangs.)
Tucker - is misunderstood cause his hoomans think he is a pain in the butt. He is *always* underfoot. But he is just super-affectionate! He wants to be, literally, as close to his hoomans as possible. It's not his fault he weighs nineteen pounds and doesn't fit into their laps anymore!
Smokey - is misunderstood cuz her hoomans think she is aloof and cold. She is just nervous about being picked up. She knows that she can allow a little bit of petting, when she's in the mood for it, but unrestrained petting can soon lead to picking up. And after what she went through as a kitten, she just doesn't want to be picked up at all, ever again. So that's that.
Yeti - I am a misunderstood Russian princess. Nobody in my home apart from the humans, give me the respect i deserve. i am very clean, being black with white gloves and socks, always spotless, and the other furry creatures in this house constantly need a reminder that i am Royalty.
La Freyetta - I'm misunderstood by the other kitties too. Merlin Bengal brought me home an now he iz meen to me all da time. I am silver grey an pretty my mum sez an Merlin is jelus as he is ginger.
Lily - Thanks for the warm welcome to da club! I'ze soso happy to be a memfur. Dis pooter bizness is all new to me, cuz I'ze just a baby kitty. But I'm sure it's all going to be funfunfun! I hisspitted at Jason today, and he runned away! I'ze training all de kittiez I lifs wif now, efen do dey'ze much bigger dan me. My eggstra toes are a big help.
josie - Iz wanna join the Misunfurrstood klubb too!
Iz misunfurrstood becuz my mine own mommie refuses to learn how to speaks Meowmeownese! Instead, Iz hasta speak the bean's "English"!
Elfin - My humans do not let me outside any more and there are so many neat lizards and birds to catch ( good kangaroo rats too)- I used to have so much fun and then they moved and won't let me out anymore- they say it is because they don't want the coyotes to get me.
Squirt - Pleeeezzzzeeee cin I juin da club....Shadow wunt letta me plud en da loungi cuz ise nut an memfer....en ise misunderstood reel bod cuz mi humin wunt letta mi plud wit da clay humins shee mukes. Ise wud nead a blew buw und Shadow sez cun hes huve und blew buw toos? Tanks fur luttin mi juin.
Mz. Jessica
Mz. Annie
Vincent - When I first came here, as a toddler , the TV show, "Beauty and the Beast" was very popular, and I was given the elegant name of Vincent. However, in the intervening years, I am more commonly called "Yo, Vinnie!" on a really bad day, "Rotten Ralph." I do not deserve this. I am very good with kittens, and it doesn't matter if I chase the girls; it's been years since I can remember why I chase them, anyway. I think it has to do with an early trip to Dr. Y's office. When I snuggle up to the Boss, she calls me "Sucker." I do not like this. I love the Boss. She loves me, too, and cuddles me a lot. When I chase the girls, though, the Boss shoots me in the butt with a water pistol. Dr. Y. told her to do that. I am not too fond of Dr. Y.
I think that I am sufficiently misunderstood to join your Illustrious Group.
Baby the wonder kitty - Da weeson I (Baby the Wonder Kitty) iz zo mizunfursttod iz dat vhen I pway "Pawz unduh da dooah" vhen dada goez to de batwoom, he tinks I iz pwaying awound vhen, n fakt, I vants him to opin da dooah cuz I hafs to go to de batwoom toooooooooo!!!
Samantha - Mizunfurstood: Where to start ... I have never accepted the fact that I am no longer an *only* pet ! I am a complete brat, and it's all because I don't have Mom to myself.
Radar - im mizunfurstood cuz mommy makes me gos tu da ladi cats lidder boxi. Hey, im a boy cat.
Sapphire Samurai - Ize needta joyn da misunfurstood kitteez, tuu. Deze hoominz dont unnerstan dat Ize needta purrtekt dem frum offur kitteez. Dey wont let me inna Out fur furry long, and den wen Ize see anuffur kitty, dey say fingz lyke "No, dat's Marco, leev hur alone, she'z a gud kitty." How'z I spozed tu kno dat iffen I dont go an infestigayte?
Miss Kitty - None of the other kitties in the house understand me. I don't want to play or ruff house. I just want to be left alone!
Travesty - I am misunderstood because I try to love all my human friends. But when I give them love bites and knead my claws into them they get mad.
Dimm-1 - mai hoomins sumtimez cals me dimmie an sumtimz cals me dim one. dey sez it'z bekuz iam not too brite! kant thai maik up dere minz? day tinks i'z stoopid wen i goze otta dair sleepin room at nite uzin mai kitty door an den stan outsaid thair b-i-g hoomin door an krize to getz in - dey tinks i fergot whare MAI door iz, but reely i'ze jus maikin shoor dey nows whooz da boss. i got dem traynd gud!
Slick - Yez,I am mizunfurstood too ana want ta join up . Dey keep puttin me ina D*G krate heer ! Im not a d*g, how kan dey do dis to me ?
Ralph de Ralf - Jist cuz Laura iz liddle ana onlee haz free legz, effurywun taykz hur syde ana blaymez mineownself fur effuryfing! It iz NOD my fawlt, it reely iznt. Ana iffen it iz, it wuz an aksidint. Honist.
TinselBean - I wants tew sleep on Meowmiez bed like I used tew but she left a dum ole d*g in owr howse. He woant let mineownself git on Meowmiez bed an Meowmie woant git rid uv da stoopid d*g. She sez come on Tinsel come on da bed but she duzznt lissen tew da stoopid d*g sayin ifin yew git on dis bed Tinsel Ize gonna bite yew in haf Sew I gived up an sleep in a kitty bed in da lawndry room.
Georgia Furball - Wood sombodez mak dat Pet Peeve STOP fyting wid mee! Aftr al I'b a lady, nota fotbal.
Pet Peeve - Mi purzon tinks I be bully, juz bekuse I play ruff wid my oldur sistur, Georgia Furball. Whi duz daddy cal dat gray plyastik thang da mouse?
Byron - Ize mizunfurstood cawse meowmie finks Ize klumsee. But datz not troo! Meowmie juzt haz lotz an lotz uf fingiez dat iz suicidal. Dey layk tew jump uf da shelvez an sutz. An fur sum weerd reesin, dey alwayz dew it wen Ize sittin deer. An den meowmie yellz at me!!! Tellin me Ize bad kittie fur brakin dooz fingiez. Wen Ize nefur, effur tutched dem!!! Sew datz why Ize a furry misunferstood kittie!
Byron, da grazious Aby

Wez now haff an honiree D*G whoz gotted awl da priflijez tu da klub pageiz.
Princess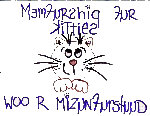 original artwork by jlc.
Dated September 11,1997
---